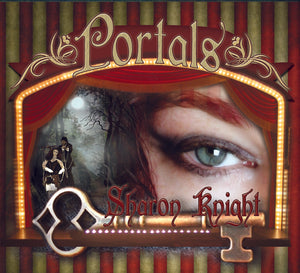 Portals is envisioned as an otherworldly carnival, a traveling roadshow of musicians, each with the ability to open portals with their voices, their bows, their flying fingers. Meant to convey the spirit of life on the road, and the spontaneous magic of sitting in on each other's sets, Sharon and Winter have invited several of the musicians they have shared stages with to add their unique talents to this collection of mythic song-stories.
The Portals soundscape rests somewhere between Loreena McKennitt, Faun, and The Civil Wars.
Featuring guest performances by SJ Tucker, Betsy Tinney, Alexander James Adams (Tricky Pixie), Nathaniel Johnstone (Abney Park), Heather Dale, Wendy Rule, Sonja Drakulich ( Faun, Stellamara), and several more!
With this download, you get 12 original songs and a full color lyric book.
Songs will be delivered in MP3 320 format. 
Release date: March 1st 2016
Preview songs here: 
Be sure to check out the Porcelain Princess Music Video on YouTube!
Customer Reviews
02/24/2021
Cypress F.

United States
Portals is amazing
I don't know how I missed this album when it was released, but I am so glad I have it. It is gorgeous musically with intelligent and engaging lyrics that take me to places in my soul and beyond. The production is impeccable. I find it a joy to listen to this and it's quickly becoming one of my "go tos" as a spiritual and emotional touchstone during the pandemic. Thank you, Sharon & Winter et al.
02/24/2021
Sharon Knight Shop
Thank you so much, Cypress, for this wonderful review! I am so glad you love Portals this much! We loved making it!