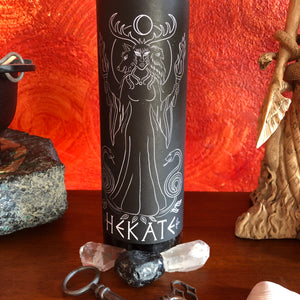 A delicious high quality beeswax pillar candle by Big Dipper Wax Works, adorned with art by Sharon. Lovely natural beeswax scent, and diffuse light. 90 hours of burn time! 2.5" x 8".

Refills for these candles are also available in this shop. This candle is a piece of art that will last a lifetime…so long as your cat doesn't knock it onto the floor!

PLEASE ALLOW 7-10 BUSINESS DAYS FOR SHIPPING IN US. 
(2-4 weeks international).

NOTE: If you are near the East Bay we can arrange a studio pickup and I will refund your shipping. 


Customer Reviews
11/24/2021
Sunshine B.

United States
Love the artwork!
I purchased the shirt to get the download of the Hekate chant, but love the artwork so much, I had to get the candle too! Thank you for making these available to us!
02/24/2021
Louise

United States
Hekate Beeswax Candle
First of all, it's a beautiful candle. It burns beautifully without smoking, and refills are available. Sharon packaged this candle with great care too, and it arrived safely. Her customer service is excellent too.
03/05/2021
Sharon Knight Shop
Thank you Louise! I am so glad you like the candle! I so appreciate my customers, the least I can do is take care of you!